26 April 2023
"Remember Open Air at Fiüm" with The Vad Vuc, Nostran and Radio Ticino!
---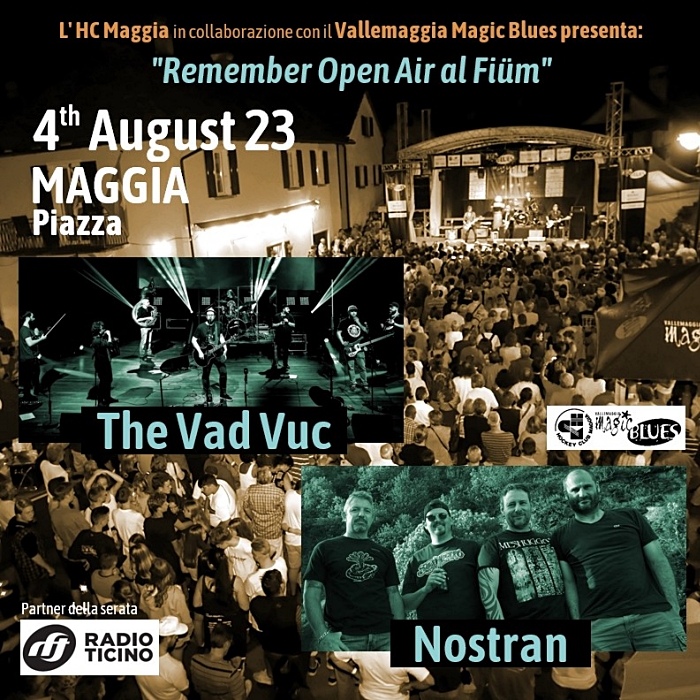 SPECIAL EVENINGS, for Vallemaggia Magic Blues are nothing new. During the first 20 years of the festival on several occasions it has collaborated with other associations in organizing "special evenings". From the first time in 2008 thanks to Pro Brontallo for Davide van De Sfroos in Cevio, to the "All-star nights" together with Cross Music Production in 2009 and 2010 on the square in Maggia with Artist such as Dana Gillespie and Rick Wakeman (2009), Tim Hinkley feat. Mel Collins and Henry Mc Cullough (2010); at The Nightbirds concert in Cevio with the Municipality of Cevio; until the last one, which we can safely consider as the pinnacle of collaborations, 10 years ago, when just together with our friends from Hockey Club Maggia we brought to Cevio the legendary Status Quo for a concert that remains among the highlights in the history of the festival. "Just thinking about it still gives me the chills!!!"
A decade later, the opportunity for a collaboration with the friends of Hockey Club Maggia comes up again. On Friday, Aug. 4, a special all-Ticino evening "Remember Open Air at Fiüm" will be offered on the beautiful square in Maggia, featuring two of the most interesting bands on the rock scene in the Italian part of Switzerland: The Vad Vuc and Nostran.

PRE-SALE: Biglietteria - Ticketcorner